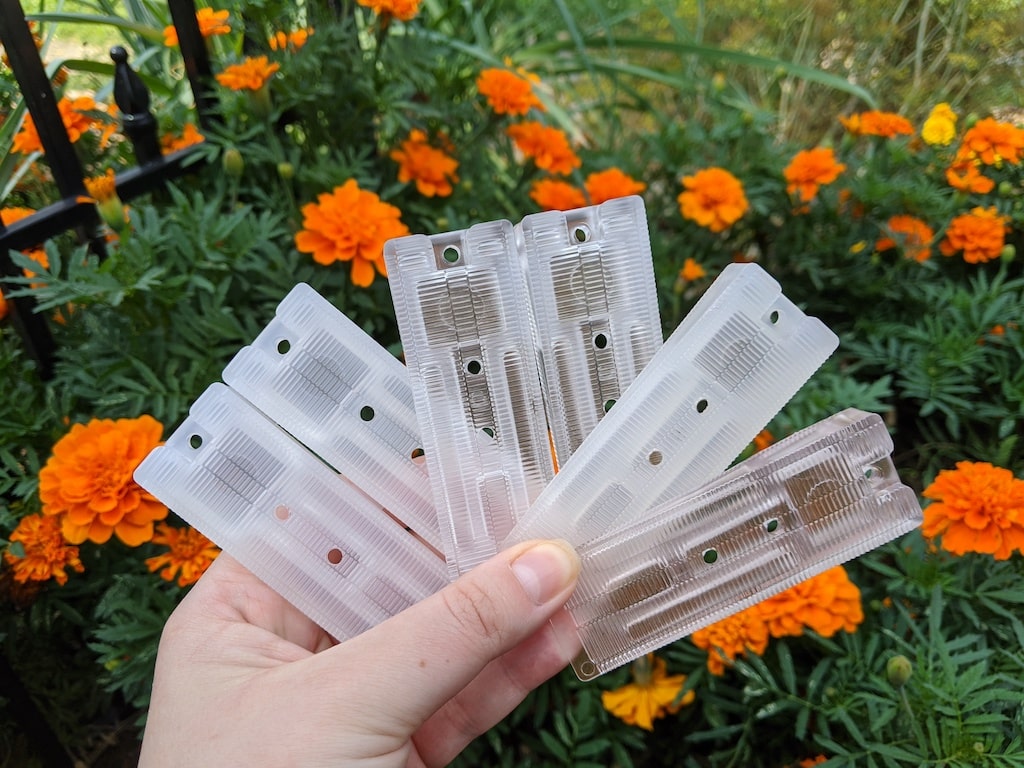 Our Biggest Plastic Shim Can Be Used For All Kinds of Jobs
Our BigGap™ Wobble Wedges® are our tallest plastic shims and are available in both hard/rigid and soft/flexible plastic. They come as a double-wide shim that can easily be cut and/or snapped into two individual shims. This means they can be used in a lot of applications. Here are just a few examples of how to use our BigGap Wobble Wedges:
1. Shimming Big Spaces
Our plastic shims come in three sizes: Mini, Standard, and BigGap™. The Standard is .25" tall, while the BigGap™ is .48". So if you have a space larger than .25", you can either stack two Standard wedges or use a BigGap™. Just like all of our plastic shims they can be safely stacked because of the patented interlocking ridges. And if you have a space that is .48" or larger you want to grab a BigGap™ or two. BigGaps™ make it easy to fill a really large space, as they can be stacked as high as you need!
2. Stop Table Legs Sinking Into Moist Lawns
If you've set up an outdoor get together or are a catering company you know that soft ground means table legs sinking into the grass. To stop this you need to spread out the weight of the table over a larger area than the small table leg. We recommend using BigGaps™ to do this. Place either a single-wide BigGap™ or the double-wide version under the table feet to spread out the weight and keep your table from toppling over.
3. Scraping Off Gunk
One of our favorite creative uses for BigGap Wobble Wedges is using them to scrape off gunk! The hard plastic makes it easy to scrape off sticky labels, build up on your grill, and many other sticky situations too. The ridges on our plastic shims work together to repeatedly scrape the surface, making it easier to get off stuck-on gunk!
4. Propping Open Appliance Doors
After your dishwasher or washing machine runs a cycle it's a good idea to prop open the door to keep them from getting musty. This is easily done with a BigGap™ plastic shim! Simply wedge the BigGap™ into the door and allow the weight of the door to hold it in place. This keeps the door propped open just enough to allow airflow, but not too much that the door will swing open.
5. Level Concrete Blocks or Pavers
Hard plastic Wobble Wedges® are great for working with concrete. Because the hard plastic doesn't react with water or concrete, you won't get any discoloration or deterioration like with other shims. BigGaps™ are ideal for leveling pavers to make a walkway or stacking concrete blocks while building a wall.
6. Door Stop
The BigGap™ is our tallest plastic shim at 0.48". This makes it tall enough to be used as a door stop. And if it's not quite tall enough for your door, with our patented interlocking ridges you can stack two BigGaps™ and they will stay securely stacked to keep your door propped open.
7. Lift Potted Plants for Better Drainage
If your potted plants are sitting flat on the ground, lifting them up will help water flow out and improve drainage. Using BigGaps™ in a "flat stack" (see image), place 2-4 stacks (depending on size) evenly spaced under your planter or pot. This will evenly lift the pot up so water doesn't stay trapped under it leading to root rot.
8. Stop Compression Marks
Similar to keeping tables from sinking in grass, Wobble Wedge® plastic shims can be used to stop indoor furniture from leaving compression marks. Use BigGaps™ underneath table legs or furniture feet to disperse the weight. This will prevent those hard to remove carpet indentations. Learn more in this blog post.
9. Keep You Grill Stable
Most patios and decks aren't perfectly level. So if you're working at a hot grill you'll want to stabilize it for safety reasons. You can use BigGap Wobble Wedges as chock blocks to stop caster feet from rolling. Or to level your grill if one foot doesn't make good contact with your deck. Learn more about this on our blog post about how to stabilize grills.
10. Leveling Garage Workbenches
Garage floors are set up to drain to the door or to a floor drain. This means that they have a slight pitch to them so that water flows. It also means that almost anything in your garage is going to lean because the floor isn't level. When working at your workbench you want it to be stable so you can safely use tools. We recommend using hard/rigid BigGaps™ to bring your workbench up to level. Learn more on our blog, "How to Level a Workbench."