With big holiday meals right around the corner, everyone is thinking about how to make their kitchen absolutely perfect. Making sure that appliances are stable, cutting boards secure, and other safety matters are addressed is essential, especially before young children enter the kitchen. Wobble Wedge plastic shims have dozens of uses that you may have never considered before in the kitchen. Here is a round-up of some of our favorite ways to use Wobble Wedge plastic shims in the kitchen.
Wobble Wedge Shims Stabilize Large Appliances:
By far the most popular use for Wobble Wedge shims in the kitchen is to stabilize large appliances like refrigerators, ovens, and dishwashers. Even with the adjustable feet, some of these larger appliances simply never sit flat on the kitchen floor. An unlevel refrigerator can cause the door to come swinging open, or swinging shut, at inopportune moments. Have you noticed your Jello never settles flat in the container? Perhaps your refrigerator is leaning.
To solve for an unlevel refrigerator, try BigGap Wobble Wedges or Standard Size Wobble Wedge shims. Press firmly against the front of the refrigerator to identify which of the feet is not sitting level on the floor, then slide an appropriately sized Wobble Wedge into the gap. These sturdy plastic wedges can support up to 2,000 lbs and will not rot or expand if exposed to moisture, making them ideal for large kitchen appliances.
Level or Stabilize Countertop Appliances: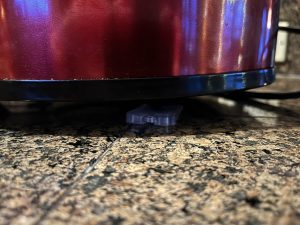 Similarly, wiggling or wobbling countertop appliances can be a safety hazard for young family members. Once you have identified the wobble, use a Standard Size Wobble Wedge or Mini Wobble Wedge to fill the gap under the uneven appliance. These shims are perfect for toasters, toaster ovens, air fryers, crockpots, Instant pots, blenders, mixers, and more. This is especially helpful for crockpots brimming with liquid contents. One or two shims can level your crockpot and keep the contents from sloshing over the side as eager guests serve themselves scoops of soup or gravy.
Stabilize Cutting Boards: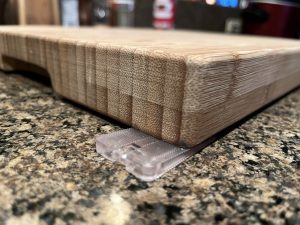 Keep your cutting boards from sliding on the countertop by placing a flexible plastic Wobble Wedge at the edge of the cutting board. The flexible plastic and patented ridges help hold the board stable against the countertop. This is especially useful for cutting boards with rubber feet when one of the nubbins has gone missing. Insert a flexible plastic Wobble Wedge into the gap to secure and stabilize the cutting board. If you don't want any of your guests to discover your secret, use a clear plastic Wobble Wedge.
Other Creative Ways to Use Wobble Wedges in the Kitchen:
Stabilize or level an electric countertop kettle
Stabilize a knife block
Stabilize a utensil holder
Prop coolers or plastic containers open while they dry to prevent mold and mildew
Prop the dishwasher open while it dries out to prevent mold and mildew
Stabilize or level decorative elements in your kitchen with Mini Wobble Wedges
Stabilize, level, and secure fruit bowls and other large decorative bowls.
Use Wobble Wedges to help prop up hot dishes off your countertop
Stabilize, level, and secure trash and recycling bins