From the Kitchen to the Bathroom to Outdoor Projects
As a property manager you have a lot of different hats you have to wear for your job, part maintenance, mechanic, plumber, etc. Having the right tools for all of these tasks is imperative, that's where Wobble Wedges® come in. Because they are made from a sturdy plastic, they are perfect for wet-rooms like bathrooms and ideal for outdoor projects. They won't rot or warp, and our plastic shims come in 3 sizes and both rigid and soft plastic, making their applications almost limitless. Here are 9 ways Wobble Wedge® plastic shims can help you as a property manager:
1. Level Kitchen Appliances with Ease
Kitchens have a lot of heavy appliances that need to be stabilized for safety reasons. Rigid Wobble Wedge® plastic shims are ideal for leveling and stabilizing heavy objects because they are made of a hard plastic that allows them to take +2,000lbs force. From shimming a refrigerator to a stove or dishwasher, and even tabletop appliances, read how Wobble Wedges® will help in our blog post "How to Shim Kitchen Appliances."
2. Stop Walking Washers and Dryers
An unbalanced washer or dryer can make a huge amount of noise as it takes a walk in the laundry room. If the adjustable feet on the units aren't enough to bring it to level, Wobble Wedge® plastic shims will do the trick. Read how to level washing machines on our blog "How to Level a Washing Machine."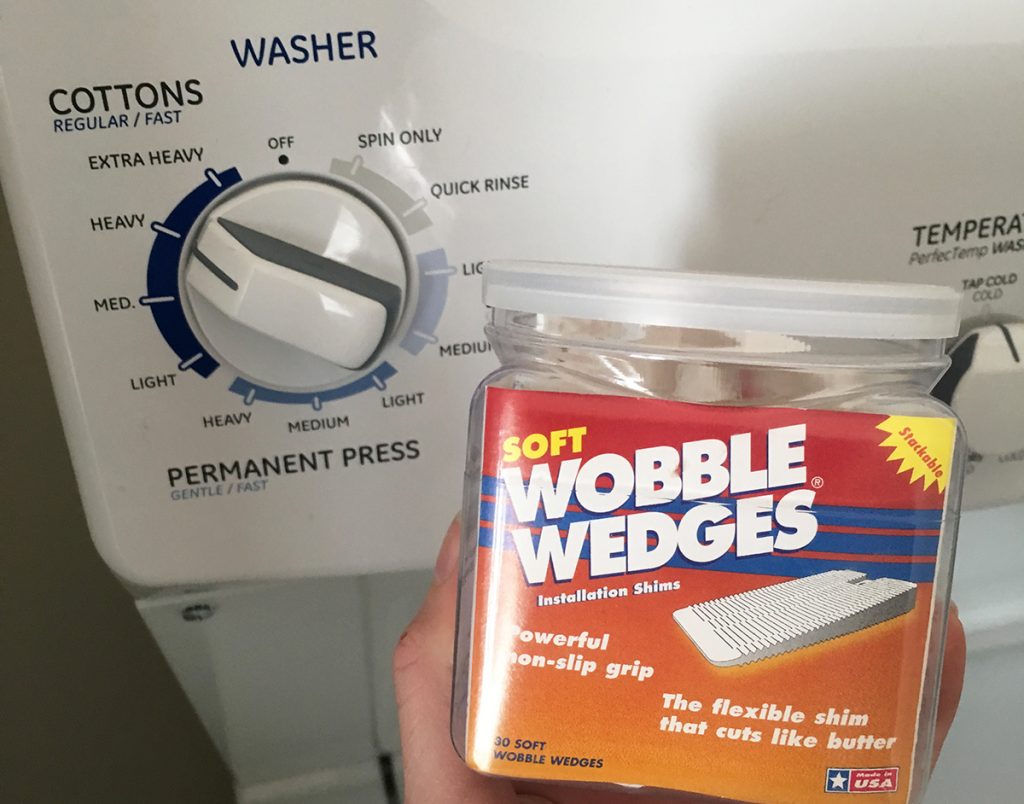 3. End the Rattle of A/C Units
Noisy, rattling window A/C units can really be disruptive as they kick on multiple times per hour. There are several reasons why a unit might be making noise. Read more on our blog post "Fix a Noisy Window AC Unit with Wobble Wedge®."
4. Installing Bathroom Vanities
We recommend using plastic shims in any situation that might come in contact with water, and a bathroom vanity is one of them. Wobble Wedge® plastic shims won't rot, warp or be affected if water should come in contact with them. Read our blog "Leveling a Bathroom Vanity" to learn how to use Wobble Wedges® during installation.
5. Fixing a Wobbling Toilet
A wobbling toilet is annoying, but if it's not fixed it can break the wax ring and lead to a leaking toilet (much worse!). Wobble Wedge® plastic toilet shims are perfect to stop the wobble and blend right in. Our soft plastic toilet shims are sturdy enough to stop the movement of the toilet and soft enough that they won't damage the porcelain. Read our blog "Fix a Wobbly Toilet" to get the details.
6. Installing a New Toilet
If you need to start from scratch and install a new toilet, we have you covered there too! When installing a toilet, you want to start on the level; so if the flooring is uneven or the last toilet rocked, you will need to shim the new toilet. Using a soft plastic toilet shim or two will allow you to easily install a new toilet. Read our blog "Putting in a Toilet" to learn how Wobble Wedges® can help you tackle this project.
7. Stop Rattling Pipes
Water pipes are typically held in place with brackets or pipe hangers, but if they aren't held firmly the pipe can vibrate, causing a noise. Checking the water lines isn't always easy, but if you have access (via a basement or crawlspace) you can probably stop the noise without outside help. Read our blog "Silence Rattling Pipes" to learn more.
8. Safely Hide Electrical Cords Out of Sight
When you're doing outdoor projects there are often a lot of extension cords that run all over the place, creating tripping hazards. To keep your property safe, we've written a blog about how to tuck away electrical cords using Wobble Wedges® outside. This blog might be about holiday decorations, but the principles apply to any outdoor electrical cords. Read more on our blog "Hide Electrical Cords Outside."
9. Use for Exterior Projects with Concrete
The main reason that Wobble Wedge® plastic shims are ideal for outdoor use is that they won't be affected by the elements. They won't rot or warp or stain concrete, which makes them excellent for doing projects like installing a concrete block wall or installing pavers. Read our blog "Plastic Shims for Precast Concrete" to learn more about how to use plastic shims for concrete projects.
PLEASE NOTE: Wobble Wedges® should not come in contact with direct flame or any surfaces that reach temperatures +200 Fahrenheit.