As you grab down your half dozen bins of holiday decorations from storage, remember to grab your Wobble Wedge Variety Pack! There are dozens of different ways to use Wobble Wedges over the holidays, from hanging exterior Christmas lights to stabilizing real and artificial Christmas trees. Wobble Wedges are more than just a handyman's tool. This simple plastic shim can stabilize furniture, antiques, decorations, and more. Here are some of our favorite ways you'll find to use Wobble Wedges over the holidays in your home or business.
Stabilize Real and Artificial Christmas Trees
A leaning Christmas tree can be an eyesore and a safety hazard. Especially for decorators who take so much pride in their Christmas ornaments, it's not worth risking the tree falling over for any unforeseen reason. By simply inserting a flexible plastic Wobble Wedge shim between the trunk of the tree (real or artificial) and the tree stand you can compensate for any gaps or leaning. Tighten the tree stand screws directly into the plastic Wobble Wedges to securely and firmly hold the tree in place. If the tree stand itself is sitting unevenly on the floor, use Wobble Wedges to shim and stabilize the feet of the tree stand.
Protect Fragile Antiques and Decorations
If you are the type of holiday enthusiast that covers the mantel and other display nooks with Christmas decorations you know that it's an art form getting everything to sit perfectly in its place. Flexible plastic Mini Wobble Wedges can help stabilize and protect antiques and other fragile Christmas decorations. Don't suffer a heartbreaking loss from your antique nativity set, protect ceramics, porcelain, and metal sculptures and figurines with clear plastic shims. The flexible plastic shims allow objects to grip onto slick surfaces, reducing the likelihood of objects falling off shelves or tables.
Level A Menorah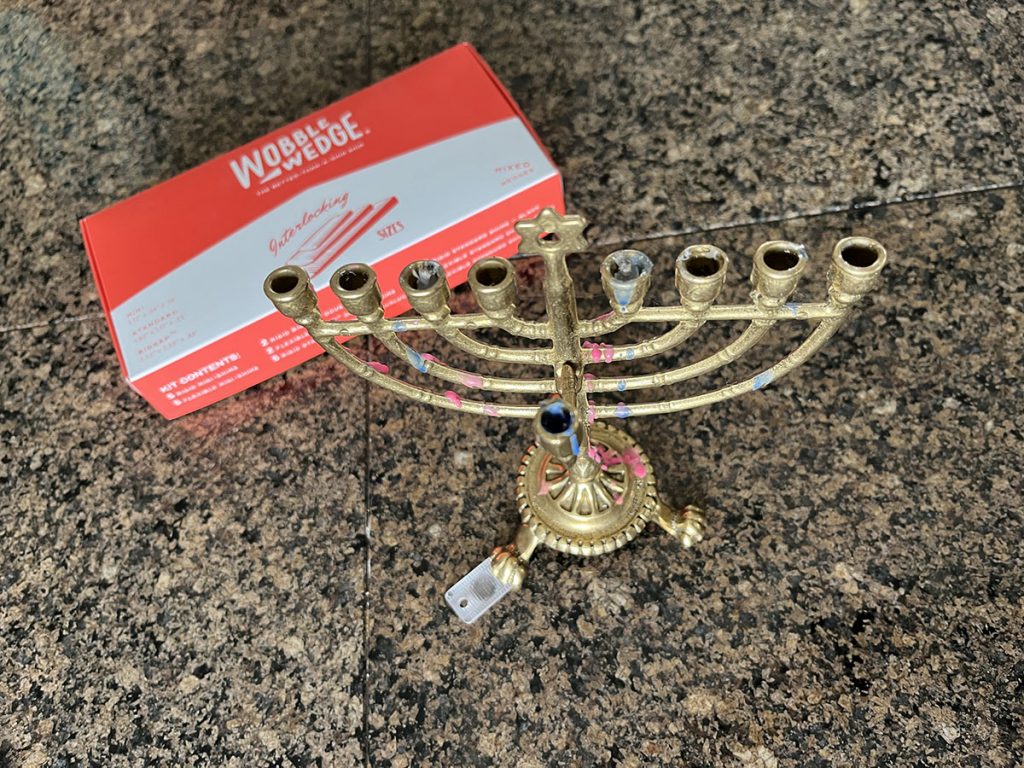 Wobble Wedges aren't just an asset for those celebrating Christmas! Mini Wobble Wedges and Standard Sized Wobble Wedges are ideal for leveling and stabilizing Menorahs and other balanced candelabras. The candles in an off-kilter Menorah will not burn evenly. By leveling your Menorah the candles will burn evenly and consistently, as necessary for the proper celebration of Hanukkah and other affiliated holidays.
Hanging Exterior Christmas Lights
You might be wondering, 'How can Wobble Wedges help me hang my exterior Christmas lights?' The answer lies in the help, screw-sized hole found at the top of all Wobble Wedges. We innovated this feature so that handy-folks could affix wedges as needed for certain construction projects. Consider if you were wanting to hide some electrical cords along your baseboard, a Wobble Wedge could be mounted in place to hold and hide the cords. Similarly, you can use Wobble Wedges to mount exterior Christmas lights. Use white or clear Wobble Wedges as necessary to make your handiwork disappear.
Ready to stock up for the holidays? Shop Wobble Wedges here.