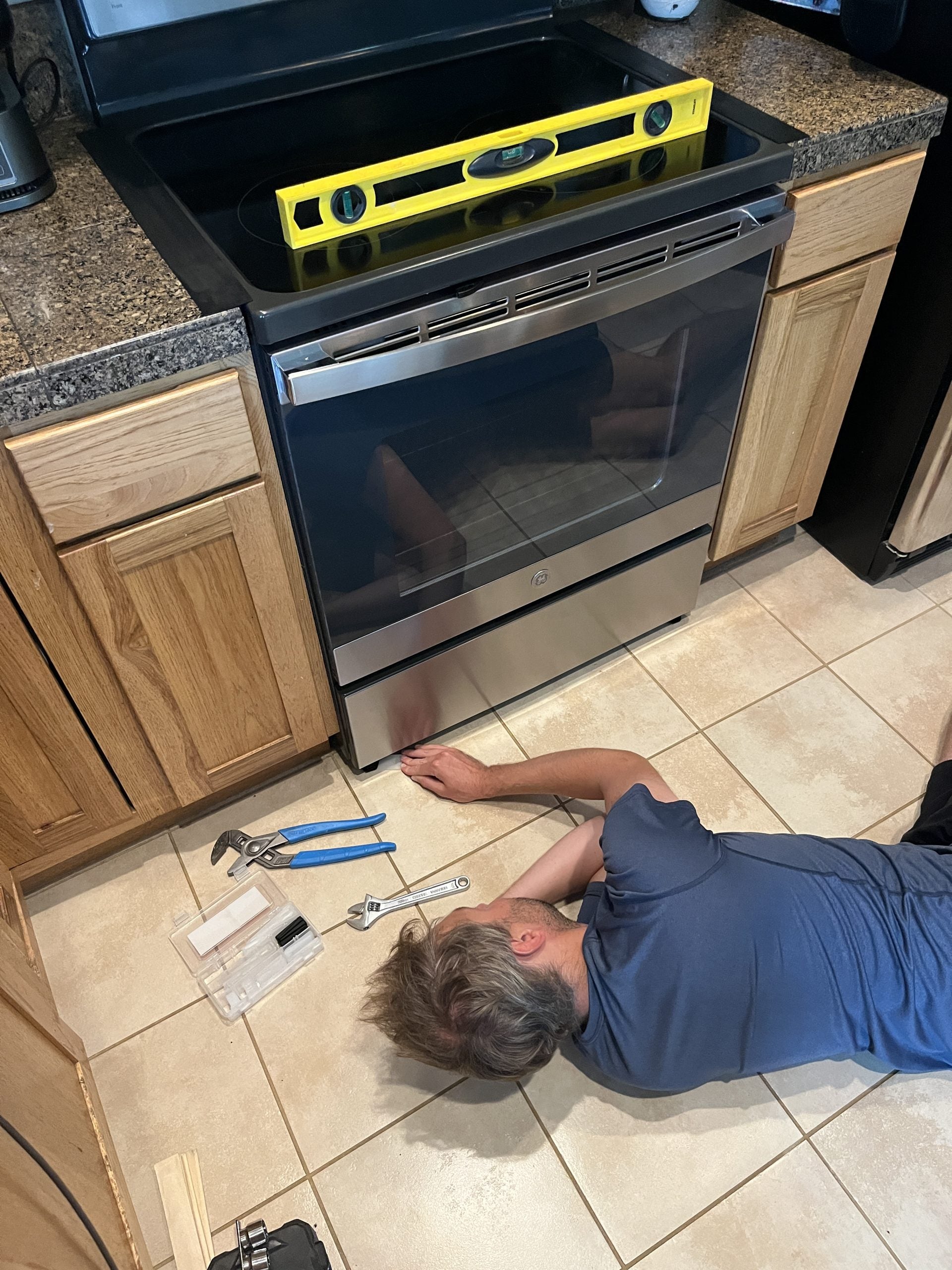 Our kitchen appliances are among the hardest working machines in our homes. The average family runs more than 210 loads through their dishwasher every year and most households are using their ovens and stovetops on a daily basis. Typically, once properly installed, most large kitchen appliances will remain level and stable for many years to come. But a new appliance or an improperly installed appliance would be sitting unevenly on your kitchen flooring material. Possibly even rocking and causing a safety hazard in your home. Use Wobble Wedge plastic shims to level and stabilize large kitchen appliances like an oven for complete and proper installation.
Professional Installation vs. Self Install
When purchasing new appliances, homeowners have the option to pay for professional installation, typically provided by the delivery persons. For an extra fee they will hook up plumbing and electrical components to your new appliance, and typically remove the old appliance. Ideally, they have also leveled your appliance to perfection on your kitchen flooring material. If not, you can use Wobble Wedges to level your large kitchen appliances after the fact.
If you've chosen self-installation, have your Wobble Wedges on hand to make leveling your appliances a breeze. BigGap Wobble Wedges can support up to 2,000 lbs, which is amply sufficient for supporting most standard residential ovens, refrigerators, and dishwashers. Do note that most appliances have self-leveling feet installed by the manufacturer that only need to be turned to manipulate the height of the appliance. If the self-leveling feet provided by the manufacturer are insufficient, use Wobble Wedge plastic shims to fill the gap.
Level and Stabilize an Oven
Having a level oven is extremely important for a number of reasons. One being counter height; if an oven is not properly leveled on all four feet it will align inconsistently with the counter height. It will also cause heavy and hot pots and pans used on the stovetop and inside the oven to possibly lean or spill, creating a safety hazard for your family. Use the self-leveling feet provided by the manufacturer and Wobble Wedge plastic shims to level all four corners of the oven. Place a level on top of the stove top surface and level the appliance left to right and back to front. Keep in mind as you adjust one foot it will affect the other three corners.
Shim Other Large Kitchen Appliances
Have other large kitchen appliances that need to be leveled? Dishwashers, refrigerators, and other large residential kitchen appliances can be leveled with Wobble Wedge plastic shims. Use the same methodology of placing a level on top of the appliance. Use the self-leveling feet and the Wobble Wedge shims to ensure the appliance is level from side to side and back to back. Get started with the Wobble Wedge ShopShim variety pack to have three different sizes of wedges on hand. These plastic shims won't rot or expand if exposed to highly likely kitchen moisture.