Here at Wobble Wedge headquarters we never cease to be amazed by all of the creative ways that our customers use Wobble Wedges. We are thrilled to have the opportunity to share this use-case from one of our recent customers, Julie, the owner of a pottery studio and art gallery in Steamboat Springs, Colorado. Julie found a plethora of uses for the various shims in the Wobble Wedge Shop Shim Variety Pack around her gallery and studio, from stabilizing fragile ceramic pieces, to shimming enormous display shelves and equipment. If you are the owner of a creative space, take some inspiration from this studio owner and grab a pack of Wobble Wedges for all your shimming needs.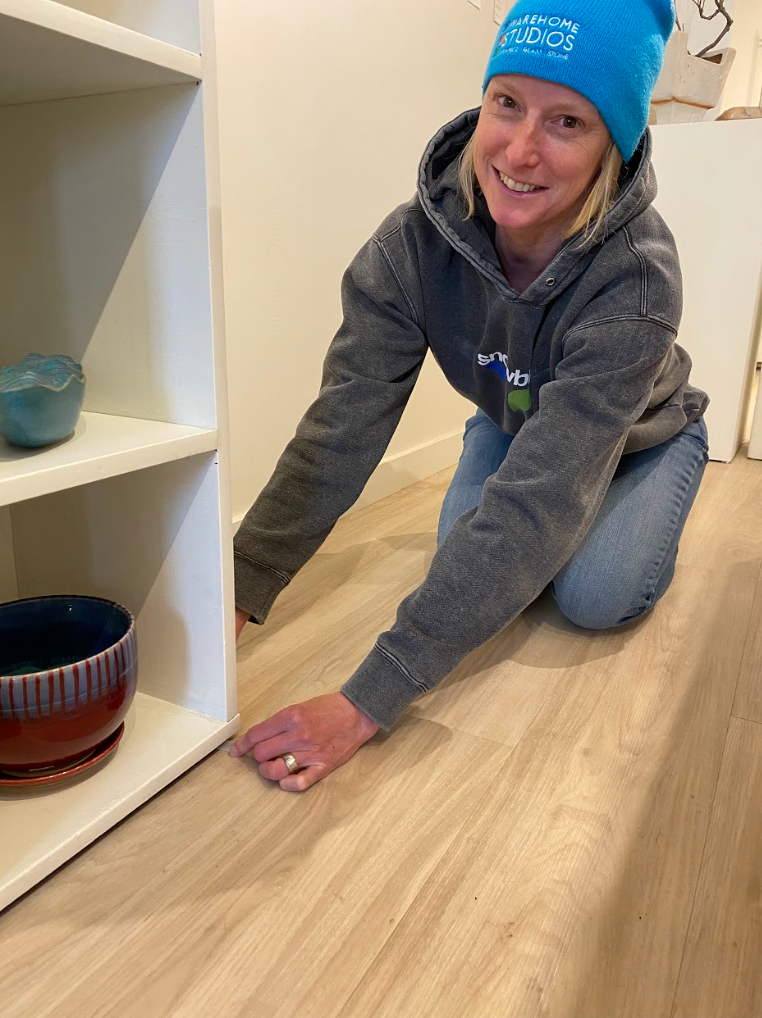 The Shop Shim Variety Pack
It all started with a Shop Shim Variety Pack, which includes Wobble Wedges in all three of our available sizes, standard, mini, and BigGap. The Shop Shim Variety Pack is the perfect starter kit for any studio and shop owner looking to have a variety of shim sizes and colors on hand. Included in each pack are 5 Standard Rigid Translucent shims, 5 Standard Flexible Clear shims, 5 Standard Rigid Black shims, 8 Mini Rigid Translucent shims and 8 Mini Flexible Clear shims, 4 single GigGap™ Rigid Translucent shims, 2 single BigGap™ Flexible Clear shims.
Stabilize Fragile Handmade Pottery
At any given moment in time there are hundreds of handmade ceramic pieces from half a dozen local artists on display in Julie's gallery. Each piece is subject to its own imperfections and wobbles. This art gallery owner started using Mini Wobble Wedges to help stabilize pottery with imperfections or wobbles to keep all of the artwork safe on the display shelves. Mini Wobble Wedge shims are perfect for handmade pottery pieces. Use Flexible Mini Clear Wobble Wedge shims to stabilize fragile objects on hard shelving materials to keep them from slipping or shaking.
Level Large Display Shelves
BigGap Wobble Wedges and Standard Size Wobble Wedges are perfect for leveling large display shelves. These plastic shims can hold up to 2,000 pounds without slipping, settling, or sliding apart. This provided the perfect solution for art gallery owner, Julie, when she rearranged all of her shelving for a new art opening. Once she rearranged all of the shelving units in her gallery space, certain shelves rocked, wobbled, and did not sit level on the hardwood floor. Thankfully, Julie had her Wobble Wedge Shop Shim Variety Pack handy! She used Standard Size Wedges and BigGap sized wedges to level and stabilize all of the shelving in her gallery space.
Shim, Level & Stabilize Studio Equipment 
Below the art gallery, in her ceramics studio space, Julie found even more uses for her Shop Shim Variety Pack. The BigGap shims are strong and large enough to shim the enormous wooden work tables and work benches throughout the pottery studio, that sit on a sloped concrete floor. The Standard Size Wedges were perfect for keeping the cumbersome pottery wheels stable on the floor.