If you're planning to install concrete steps, pavers, or blocks this summer GRAB YOUR WOBBLE WEDGES®! Rigid plastic Wobble Wedges® can help level uneven concrete stairs or blocks and won't budge or eventually give way to the elements. Wobble Wedges can hold up to 2,000 pounds of weight. Use the interlocking ridges to stack wedges to solve any wobble or gap.
Leveling precast concrete steps or other large concrete objects is often done with stones, sand or clods of dirt. Using Wobble Wedge tapered shims can be faster and more accurate. Here's how: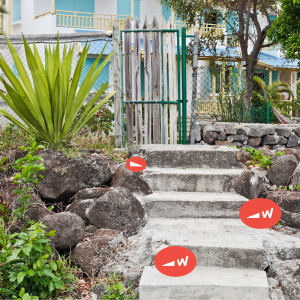 Dig a pit and install a foundation of cinder blocks in a bed of gravel or sand. Or, lay in a poured concrete pad. Level sand or concrete as precisely as possible.
Place the steps on the foundation and check for level and stability.
Using a sturdy pry bar, lift the steps to insert rigid plastic Wobble Wedges in any combination of sizes needed to level and stabilize the steps.  While lifting with the pry bar gently tap wedges till they fill the gap firmly.
Check once again for level and stability and adjust as necessary. Trim to fit with a strike of a sharp chisel if needed.