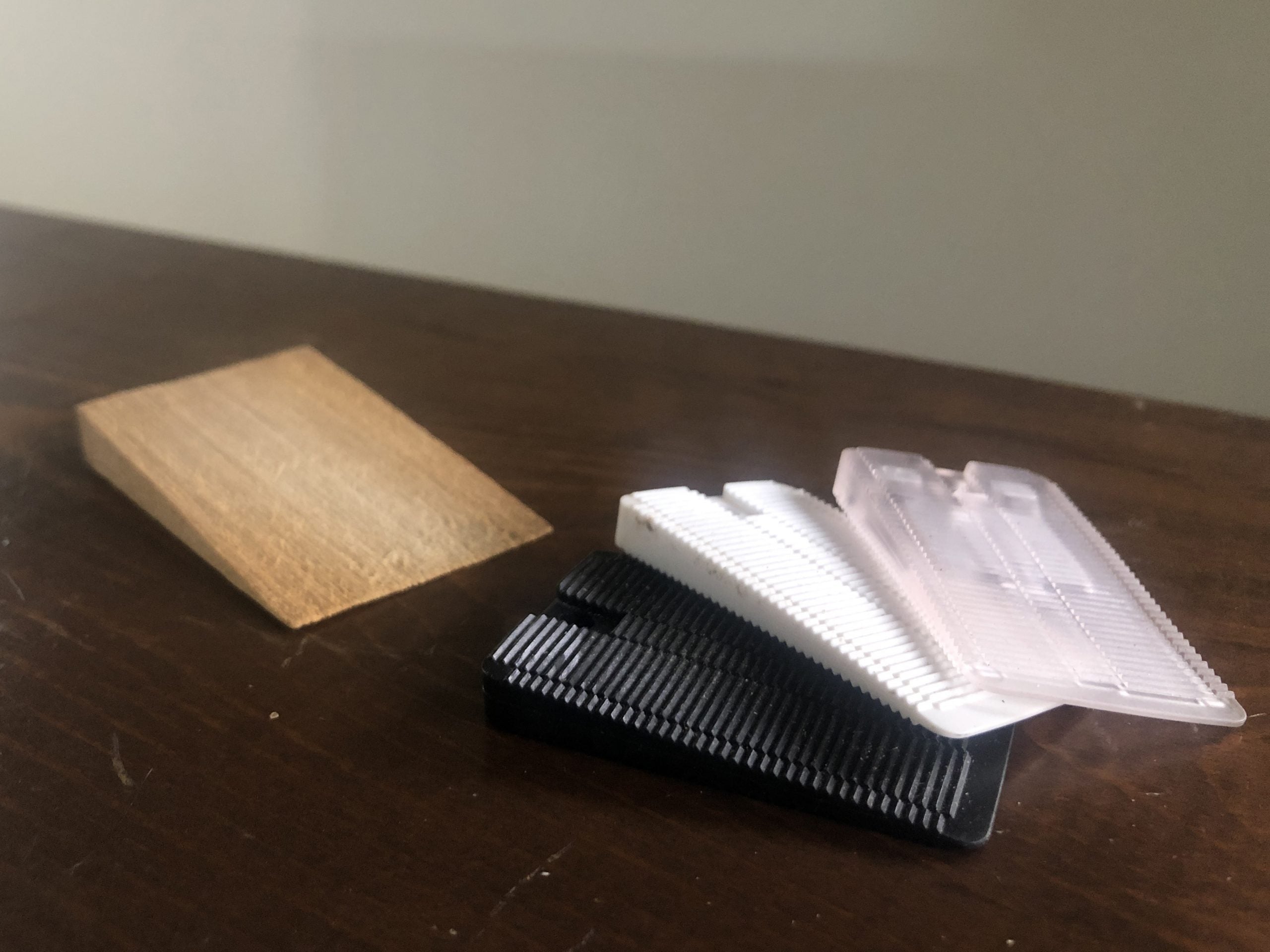 Wood shims are a timeless carpentry solution, but modern plastic shims can offer a more reliable solution in certain circumstances. You might have both types of shims in your toolbox. What are the primary distinctions between wood shims and plastic shims? Which projects are better suited for plastic shims? In this blog post we will explore the pros and cons of each to make sure you have the right type of shim on hand for your next project.
Patented Interlocking Ridges
The primary distinction between a Wobble Wedge® plastic shim and a standard wooden shim is the presence of the patented interlocking ridges. These ridges make all Wobble Wedge plastic shims stackable in any unique combination (imagine how Legos securely stack and lock together). Wooden shims are liable to slide when stacked under pressure. Wobble Wedges can hold up to 2,000 pounds and will not slip or slide apart once stacked under the weight of an object. Make furniture and shelving perfectly level, keep decorative objects stable, and more with Wobble Wedges®.
Not Susceptible to Exposure to the Elements
Unlike their wooden counterparts, Wobble Wedge plastic shims are not susceptible to exposure to the elements. Wooden shims will expand and warp when exposed to water and changing environmental conditions. Wobble Wedge plastic shims are waterproof and weatherproof. Use Wobble Wedge plastic shims to stabilize appliances in your basement that might get exposed to leaking water or in your bathroom near showers, toilets, and sinks. Wobble Wedges are also ideal for use outside shimming concrete blocks or steps, fountains and sculptures, and large planter boxes and containers.
Available in Multiple Colors
When using shims in areas where they will be visible, Wobble Wedge offers plastic shims in a variety of colors; black, white, and clear plastic. Choose a wedge that will blend seamlessly into your environment. Wood shims are typically unpainted and their natural brown color. When a more professional solution is required, use Wobble Wedge plastic shims. Black plastic shims disappear perfectly under kitchen appliances like a refrigerator, stove, or dishwasher. White plastic shims work perfectly near white tile, laminate, or porcelain in bathrooms. For everything else, clear plastic Wobble Wedges disappear into any environment for stabilizing decorative items, furniture on soft flooring, indoor plants, and more.
Wooden or plastic? Which type of shim is right for your project? Click here to shop Wobble Wedges plastic shims available in a variety of sizes and colors.