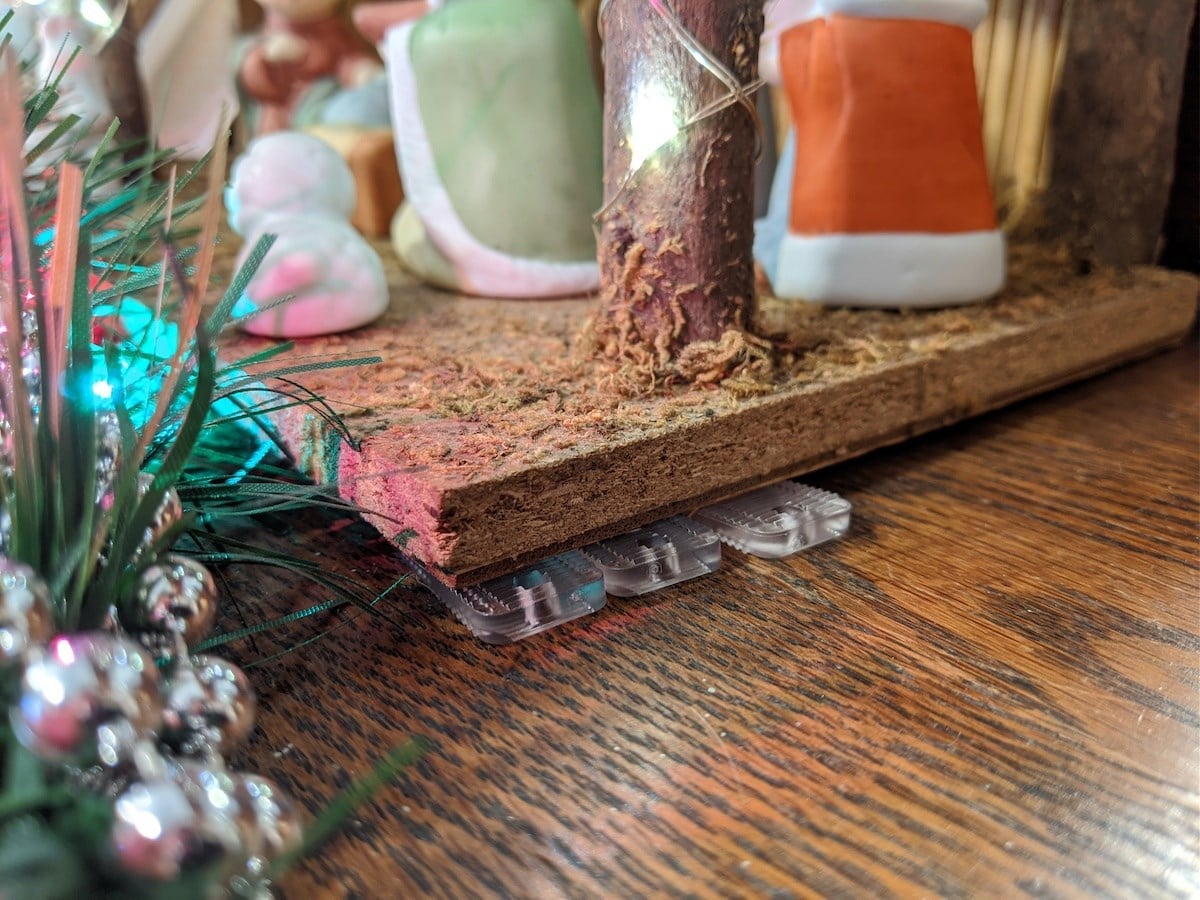 Plastic Shims Will Keep Your Holiday Decorations from Wobbling and Leaning
Setting up holiday decorations is a great activity to get you in the holiday spirit. Many decorations are sentimental and hold a special place in our hearts, so don't let them wobble precariously while on display! A great solution is our Wobble Wedge® plastic shims, as the soft/flexible plastic version can cushion glass, porcelain, and wood. Our hard/rigid plastic shims are strong enough to take 2,000lbs if necessary. Continue reading to see how Wobble Wedge® plastic shims can help you stabilize Christmas decorations in your home:
Shore Up Small Holiday Decorations
Small decorative holiday items often get setup on table tops, mantels, and various surfaces around the home. For example, if your manger is a family heirloom and has seen a lot of seasons, it might be a little warped. This is the perfect use for our Mini Wobble Wedges®, which can discreetly shore up the corner so your precious porcelain figurines don't take a tumble. Mini Wobble Wedge plastic shims are also perfect for leveling table top trees, candy bowls, glass and porcelain figurines, pretty much any small wobble you might have! Minis are available in both a soft/flexible plastic and a hard/rigid plastic. Both plastic shims come in a clear/translucent color so they'll blend in and not steal the show.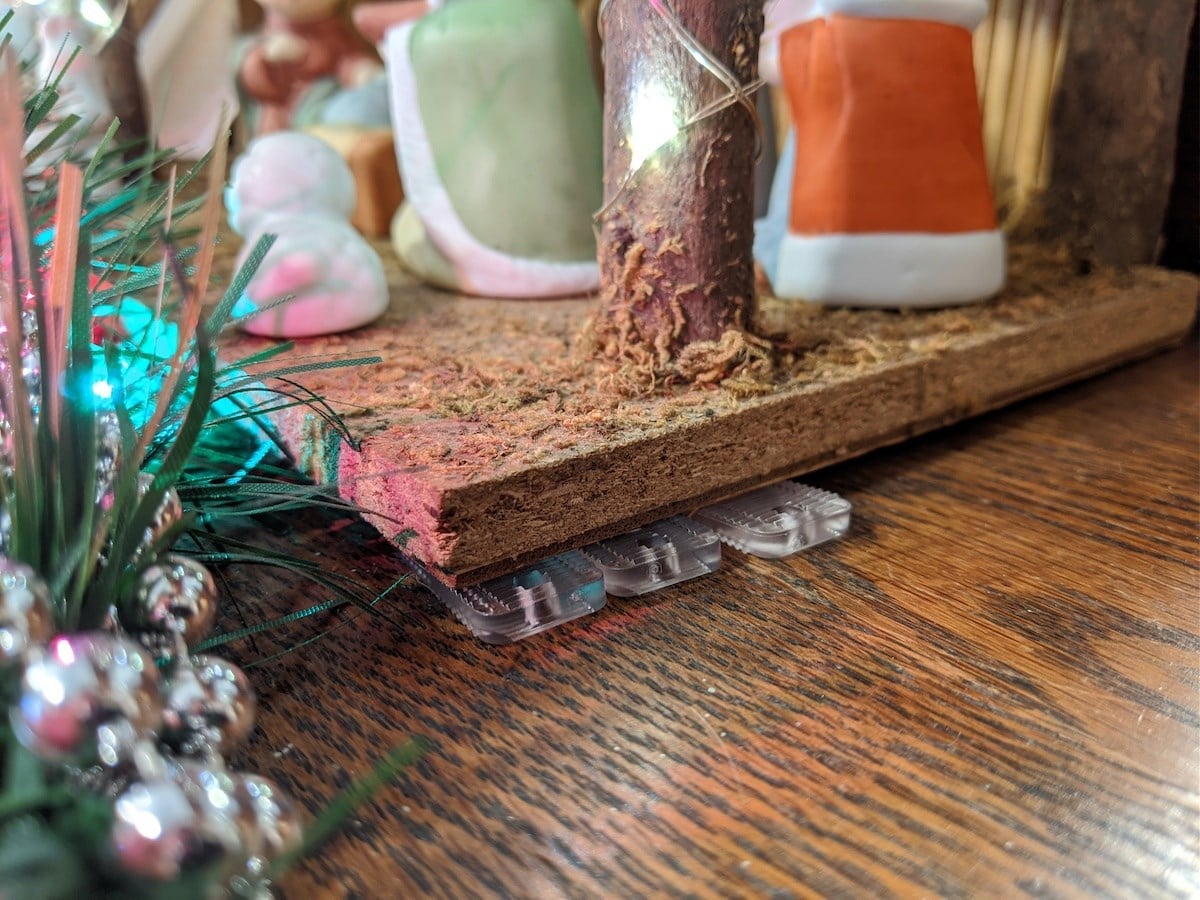 Use Bigger Wedges for Bigger Decorations
If you're dealing with a bigger wobble or leaning decoration, you can also use our other two sizes of Wobble Wedges®: BigGaps™ and Standard wedges. Perfect for stabilizing any large spaces with a single BigGap filling a 0.48" space and Standards a 0.25" space. Standard plastic shims come in three colors black, white, and clear/translucent, so you can choose the color that will blend in best while they stabilize Christmas decorations. Just like all of our plastic shims they are safely stackable! Thanks to our patented interlocking ridges you can stack Wobble Wedges as high as you need to and they won't slip!
Stop Your Tree from Wobbling
Don't let a leaning Christmas tree dampen your holiday spirit! Whether it's a live tree or an artificial tree, Wobble Wedge® plastic shims can get it stable and standing straight. Our plastic shims can help with stabilizing it within the stand if the screws don't quite reach the tree to hold it firmly. You can also use our plastic shims to shim the feet of the stand, if that's the source of the wobble. Get details on our blog post "Keep Christmas Trees from Falling or Leaning".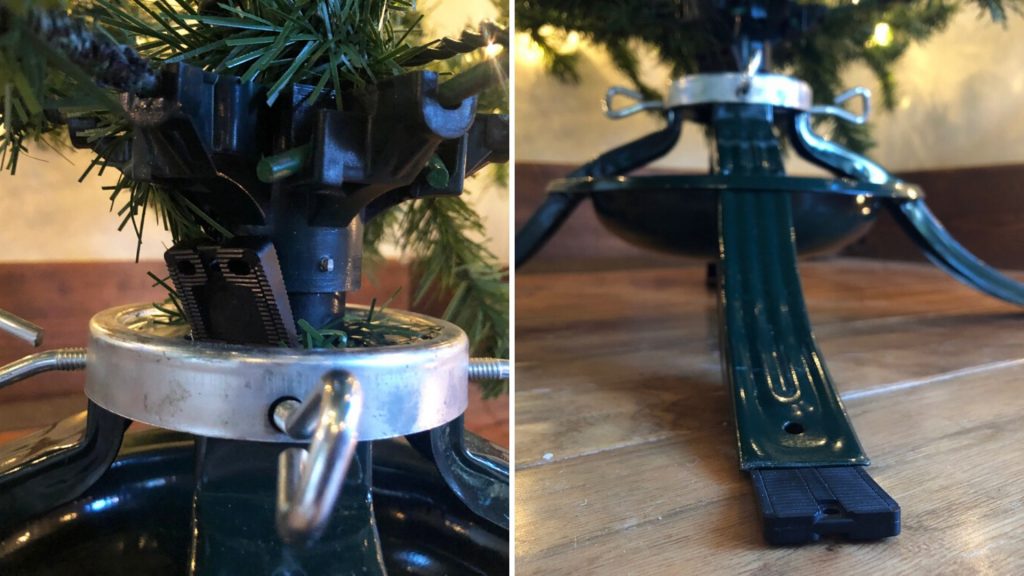 Tuck Cords Out of Sight
If you're putting up a beautiful outdoor display, you'll probably have a lot of cords to keep out of the way. Wobble Wedge® plastic shims can help tuck cords out of sight across thresholds, under siding and even hold up cords along the eaves. Read more about how our plastic shims can help keep you from tripping on cords outside with our blog post "Hide Electrical Cords Outside".