Wobble Wedges® Make the Ideal Outdoor-Use Plastic Shims
Outdoor projects need to stand up to the elements, and if you need shims for outside, your best bet is a plastic shim. Wobble Wedges® are the perfect shim for everything from installing precast concrete to stabilizing potted plants. Made from sturdy, weather-proof plastic, our shims come in both hard/rigid and soft/flexible plastics, and 4 sizes. This makes Wobble Wedges® versatile and the ideal plastic shims for outside use.
Plastic Wedges for Deck Stair Installation
When installing deck stairs there is a lot of math involved, and sometimes you'll need to correct for a miscalculation. Plastic shims offer a great solution. If you need to adjust the tread tilt or step height on your stairs, or fix the angle where the stringers meet the deck, reach for a plastic shim. Read how Wobble Wedges® will help with these issues in our blog "Why Use Plastic Shims to Level Deck Stairs."
Shim and Clean Your Grill
Having a level grill is important for safety; instability plus flames isn't a good combination. Use Wobble Wedges® to level and stabilize your grill on your patio or in your yard. They also work as chock blocks to keep castors from rolling. And a hard/rigid plastic shim works great for scraping off gunk that's stuck to your grill. Read more in our blog "Stabilize Your Grill with Wobble Wedges®."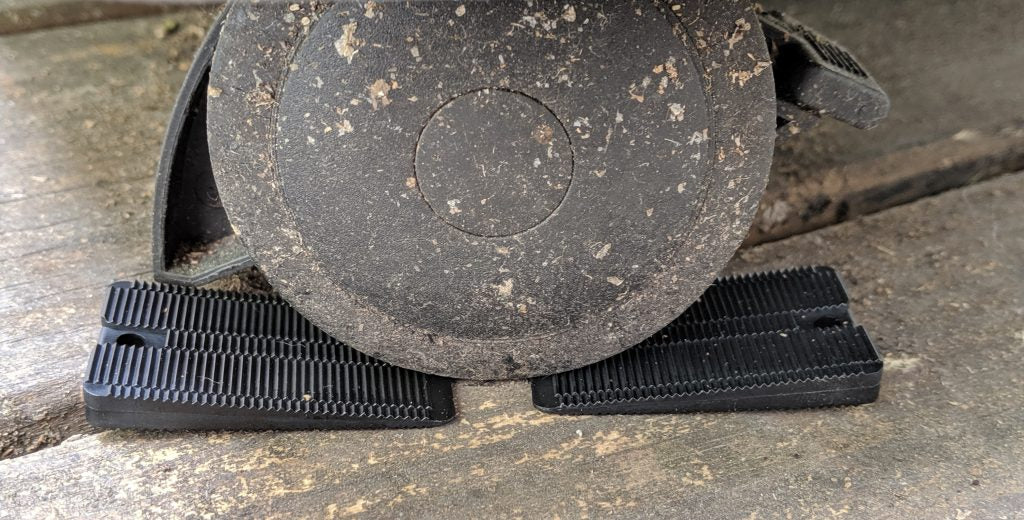 Stabilize Patio Furniture and Keep Your Table Umbrella in Place
Old deck boards and uneven concrete can mean wobbling furniture while you're sitting on your deck or patio. As with indoor furniture, Wobble Wedges® make great furniture levelers for your outdoor needs too. And if you have a table umbrella that spins or moves out of position, a soft/flexible Wobble Wedge® can keep it in place. Learn how in our blog "How to Stop Wobbling Patio Furniture."
Hide Outdoor Electrical Cords
Electrical cords that aren't tucked away look unsightly and easily become tripping hazards. There are three ways that Wobble Wedge® plastic shims can help solve this problem. Use them to tuck cords away across doorways, around siding, and even to hold cords in place along eaves. Read how in our blog "Hide Electrical Cords Outside."
Level and Lift Potted Plants
Whether you're moving indoor plants outside for summer or planting beautiful flowers in outdoor planters, sometimes you'll need to level them. Your plants will love the fresh air and sunshine, but if they wobble they can be at risk of falling over, breaking your planter and making a mess. Wobble Wedges® are great for stabilizing your pots outside. Use them to lift your planters so they can drain more easily, preventing root rot. Learn more on our blog "How to Stop Wobbling Patio Furniture."
Concrete Projects in the Backyard
If you're working with concrete you shouldn't use metal or wooden shims. This is because they can discolor the concrete over time with water exposure (unless you live in a very arid climate this is bound to happen). Wobble Wedge® plastic shims are perfect for building a precast concrete wall, creating a precast concrete walkway with paving stones, or installing a concrete fountain. Our plastic shims won't discolor, warp, deteriorate or affect concrete, which makes them the best plastic shim for the job.